This was 
MY FAVORITE DOWNHILL (15 miles!!)
 in a summer full of mtn. bike riding that consisted of riding the best parts of California, Colorado, Utah, Idaho, and Oregon. Everyone who's ridden Oregon seems to think the same. This is the best selection on a deep menu of awesome trails the town of Oakridge has to offer.
List of Other Killer Rides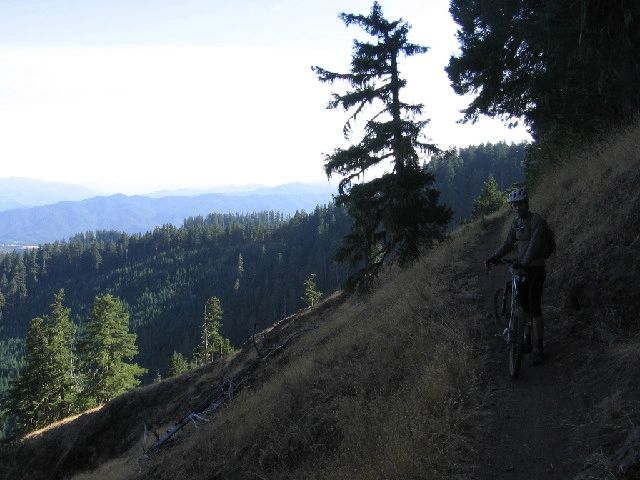 Most people make this ride a shuttle. If you like to earn your thrills (30+ miles, at least 4000 ft of climbing), you start off by taking a meandering single track along the North Fork of the Willamette River for 5 or so miles. Then you do the work by climbing a nice fire road to the top (Katie's Cut In). There are 2 different fire road options. Road 1912 is a couple miles shorter and steeper than road 1910. The downhill is super fast and buff. Most people shuttle this ride. The only technical aspect is how you can handle your bike at Mach 10. I was fortunate to bump into another rider at the top who was a great pace car on the way down, pushing me to my limits. I won't describe this ride any further. Just know that it's Awesome! and that you Must do it!. Note: At Katie's Cut In, most people hang a left and another left to start the downhill. I felt adventurous. Once in Katie's Cut In, I turned right and did the loop out via the Elk Camp Shelter and back up to Katie's Cut In on the logging road.  I wouldn't suggest doing this portion as the trail is overgrown and not very exciting. Save your time and energy for another ride or shuttle as it puts another hour plus on the ride time.
Season:
  Spring,Summer,Fall . Always call the bike shop as Oregon is known for Rain!
How to Get There:
The trailhead is located at the town park of Westfir (10 min. drive from Oakridge which is 1 hour's drive from
Eugene
,OR and a little over 2 hours from Bend,OR). Cross the Covered Bridge and park. There are bathrooms and water.
Trail Maps:
Oakridge Oregon Adventure Map
Camping: Just pick a dirt road and drive up until you see a good spot. Be mindful of where you can and can't have a fire/propane.
Food: I did the camping thing but did eat at a Mexican Restaurant on the south side of hwy 58 (back off the street) in Oakridge. It was really good. I think it's called Matzatlan. There's a pizza place on the north side of the main street that's supposed to be decent.