A beautiful place with some nice riding. What it lacks is the feeling of remoteness. We rode the Rim Trail (Snowmass) and the Govt Trail (Snowmass to Aspen). Houses and traces of civilization can for the most part be seen for most of the ride. That being said, the single track is nice and if you happen to be in the area and want to ride, you won't be disappointed.



How to get there: 2 hr drive from Grand Junction/3.25 hr drive from Denver.  Aspen and Snowmass are 15 minutes down the road from each other.

Camping: We camped just outside of Aspen on Maroon Creek rd at a paid campsite. A couple miles up from the campsite at the end of the road is Maroon Lake (see photo below) a definite must see. The map doesn't show any camping in the Snowmass area.

Maps: Latitude 40 Aspen/Crested Butte/Gunnison

Rides: Everyone talks about the "Govt. Trail" and "Rim Trail"

Govt. Trail (Highline-Tom Blake-Anaerobic-Govt. Trail-Pavement)

Govt. Trail is a nice single track that traverses from Snowmass to Aspen. It's 7.2 miles long. The ride described here contains 5.2 miles of the Govt. Trail connected with several other trails and pavement to make a loop for a total of around 18 miles.

Ride Start: From Aspen/Carbondale take hwy 82 to Brush Creek rd (road to Snowmass village) Take Brush creek road for about 3 miles, turn right at the roundabout and park at the Town Park/Rec Center. Ride back to the round about and hang a right up Highline rd. You'll see very shortly the Highline Trail on the left. Take this and climb steeply for a couple miles (stay on Highline) where the trail spits you out on to Highline rd. again. Go up the pavement about a 100 yards or so and you'll see a trail head junction on the right. Take a right off the road and head straight back (south) to the Tom Blake trail which leads to Snowmass village. Ride this to Anaerobic Nightmare Trail and go straight uphill (left is for horses) for about 1.5 miles. It's pretty steep but I was able to ride most of it just after it rained hard the night before. The top brings you to the govt. trail. Your pretty much done with climbing (except the road portion from hwy 82 back up to car). The trail makes its' way through aspen groves for a couple of miles and then you are further rewarded with a 2 or so mile downhill that's fast but not too technical (not a lot of rocky sections). The trail eventually passes next to the Buttermilk Express lift. From here on down keep your eyes out for a bike/walking bridge down to your right in the fast approaching valley. You'll cross this bridge, hang a left on Maroon Creek rd.,ride down to hwy 82,hang a left and ride the bike path/road back to Brush Creek rd and up to your car.

Option: You can make this a much bigger ride ( I wish I did) by riding the Rim Trail (1:45 minutes) first and continuing on with this ride. A shuttle is preferred as the ride back on the road adds 30-40 minutes with 3-400 ft of climbing. Another option is to link this ride with the trail systems on the north side of Aspen (Sunnyside/Hunter Creek trails)

(Buttermilk Express Lift near end of Govt. Trail)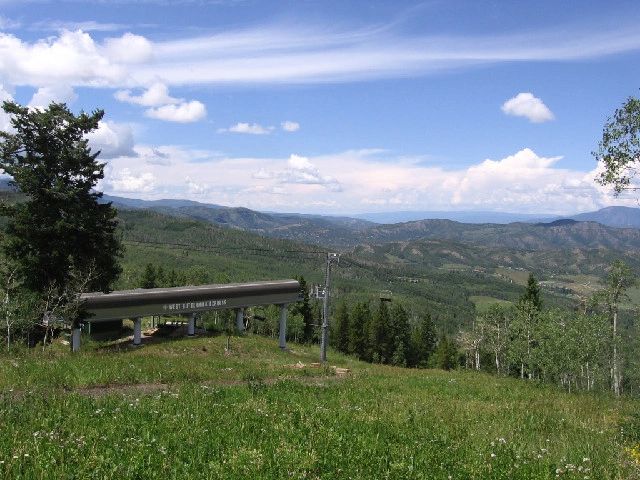 Rim Trail (description coming soon)