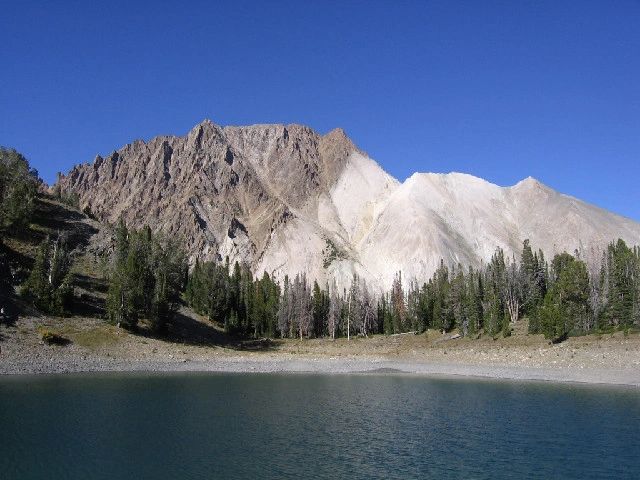 Note: This ride was open to mtn. bikers as of Summer 2010 but there are plans to possibly designate this area "wilderness" and close it to mtn. bikers. Check the status with the ranger station before heading out. Also, people call this ride different names among them, "Chamberlain Lakes".
The Castle Peak Loop is one of my all time favorite rides. On a scale of 1 to 10 with regards to remoteness and beauty, this ride definitely scores a 10. This coupled with a fair amount of climbing makes it a great workout also. This ride is not for the inexperienced/faint at heart. You are really out in the middle of nowhere. There are a few hike a bike sections but most of it can be ridden by the expert rider. The downhill is technical and even at the end of the season was overgrown and unrideable in some sections. Only attempt to do this ride at the end of summer as snowpack lingers. Moreover, there's usually fallen trees from winter that will have hopefully been removed by the end of summer.
List of Other Sick Rides

Ride Time: 3.5-5 hours
Ride Mileage: 17 or so miles
Elevation Gain: 3000 ft (roughly)
Camping: Everywhere
Getting There: From Stanley head south on hwy 75 towards Sun Valley. Just after Smiley Creek Lodge, turn left on Pole Creek rd.(15 min.) From Sun Valley Pole Creek rd. is on your right after coming down from Galena Summit just as the road flattens out.(40 min.) Take Pole Creek Rd. for 11 or so miles (passing Grand Prize Trailhead) up over Pole Creek Pass to the Germania Creek Trailhead (TH). Due to low clearance on my car, I parked at Grand Prize Trailhead and road my bike 5 or so miles up over the pass to the trailhead. In hindsight, I probably could've made it the whole way in my car except for a small washed out portion of road just before the Germania Creek TH.  If you have a truck, drive the whole way to the trailhead as riding as I did added 2 hours to the ride. Even if you drive fast in a 4WD, I'd allow 40 minutes to drive the 11 miles of dirt road to the trailhead.
Food: There is a grocery store in Stanley, a breakfast/coffee shop that is really good and a pizza place that does the job. Red Fish Lake lodge has good food with killer views.
Trail Maps: Sawtooth&White Cloud Mtn by AdventureMaps (includes all the killer rides &hikes in the Sawtooth Valley)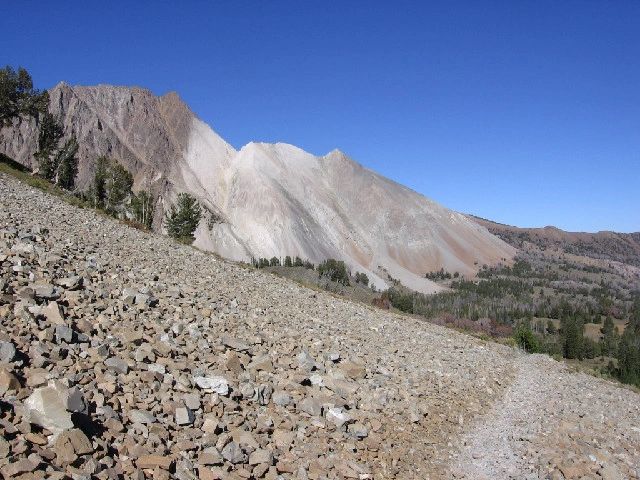 Start riding your bike at the Germania Creek Trailhead. From the Germania Creek Trailhead you'll descend slowy for about a mile. After crossing Washington Creek, they'll be a trail on your left (1st left from start of ride). The climbing starts immediately with several sections of hike a bike. Don't be discouraged, as the hike a bike turns into some nice single track shortly thereafter. After about a mile, you come to a fork. Take the trail going right. After another mile or so, you'll come to another fork. Again, take the trail going right. You'll continue to climb for another mile or so. You'll then reach the saddle which provides beautiful views of Castle Peak (see picture above). This is a nice place to have lunch. What a unique place!
You'll then start your descent into Chamberlain Basin on trail consisting of crushed rocks. It's a relatively smooth and fast descent. Take your first right turn about a half mile into the descent as continuing straight is a faint trail to nowhere. In about another half mile you'll pass a lake on your left. If it's hot, this is a good place to take a swim.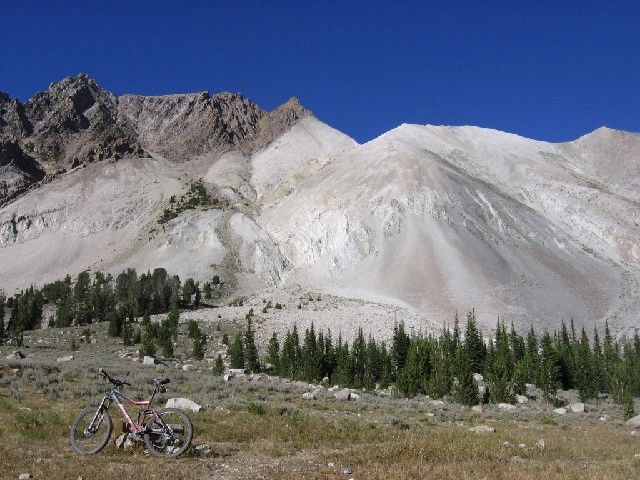 (base of Castle Peak)
Continuing on around the east side of the lake will bring you to the base of Castle Peak (see picture above) and to a trail junction. Take a right and head due east. Shortly thereafter you'll come to another junction. Take a right (left goes to Frog Lakes). The descent starts shortly here after. Also, the trail becomes faint and literally disappears. Keep heading east down into the gulch (Chamberlain Creek on map) over a shrub filled area as the trail eventually reappears and rides down and along Chamberlain Creek. Note: when the trail disappeared, I made the mistake and headed to the right and up to the ridge 20 or so yards. 
The descent is fun but steep and can beat you up as the trail is narrow and overgrown in some parts due to not that many people riding it. The descent follows Chamberlain Creek down to the bottom where it meets up with Germania Creek. Take a right and climb Germania Creek for about 4 miles/1000 vertical ft. back to the trailhead where you started the ride. The trail crosses back and forth across the creek a several times. Just remember to always stay along the creek. About a half mile into the climb, there is a trail that heads left (south). Don't take this. Stay along the creek all the way back.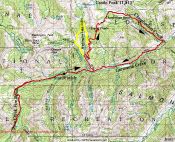 (mouse over for full sized image)