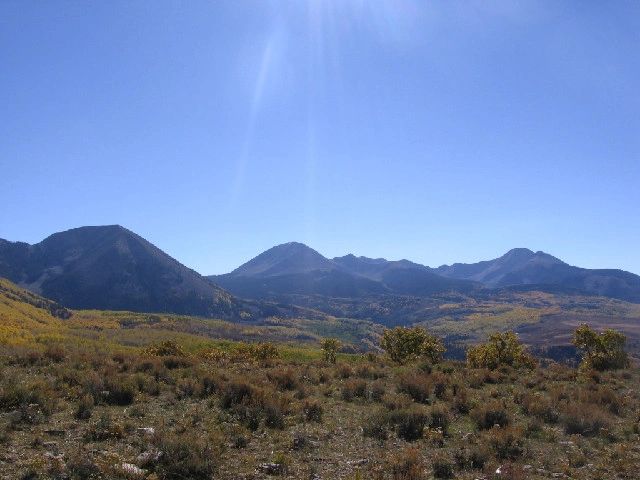 (La Sal Mtns)
The only thing better than this ride is doing the Whole Enchilada (Burro Pass-Hazard-Porcupine Rim). Because of weather constraints, we could not get to Burro Pass. So we did the next, best, most popular thing to do. This ride (mandatory shuttle) starts at the Hazard County trailhead which is located in a grove of aspen trees at the bottom of the La Sal Mtn basin. The ride starts off with a small climb that leads to a 26 mile downhill. Quickly and surely, you'll make your way down from the alpine basin into the red rock desert corridor below. Many technical challenges and awe inspiring views await which make this truly one of the best rides anyone can do. For many, there will be plenty of hike a bike sections.
Ride Type: Single track thru sage brush, slick rock, rocky double track, alpine/desert landscape
Technical Difficulty: Very Difficult, expect hike a bike sections and to get beat up.
Distance: 26.2 mi
Elevation Loss: 6406 ft
Elevation Gain: 1108 ft
Time: 3-5 hrs"ish"
Season: Summer because of snow in higher elevation. Porcupine Rim by itself can often be ridden in spring.
Recommended Map: Moab East by Latitude 40 
(includes Slick Rock,Porcupine Rim,Whole Enchilada, La Sal mts, Castle Valley, Fisher Valley and much more) Note:Together, Moab West & Moab East maps cover everything in Moab.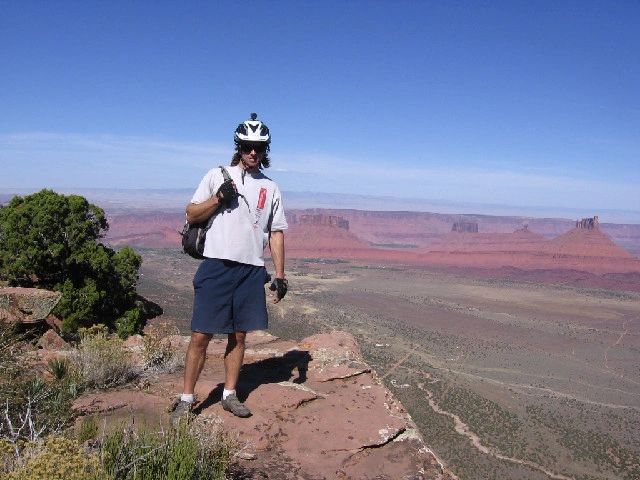 (Porcupine Rim with Castle Valley in background)

Getting There: Park the first shuttle car at the Negro Bill Trailhead. To get to the trailhead, head north out of town (hwy 191) a couple miles and turn right on hwy 128 (paralells Colorado River) and travel 3 miles to trailhead. To get to the start of the ride, retrace yourselves back to downtown Moab. Head south out of town on hwy 191 for 8 miles. Turn left at the road with the sign ("Ken's Lake -La Sal Loop Rd). Road will "T". Hang a right. This road turns into "La Sal Loop Rd". Stay on this windy/climbing road for around 22 miles. Turn right on "Warner Campground Rd" and travel up around 4.5 miles on the gravel road to the "Hazard County Trailhead" on the left. This is where the fun starts! 




(Hazard County Trailhead Parking Lot)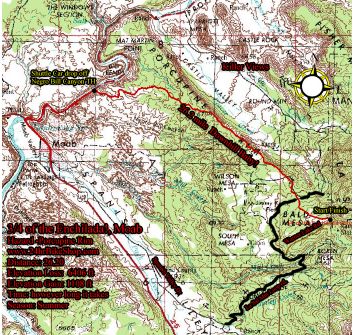 (scroll over map for full size image)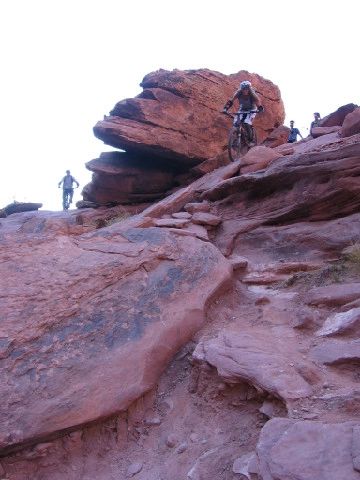 (Rachel, faster and more daring than 99.9% of all men)





(Jackass Canyon)