(Bull Run aka Green Dot)
A brand new (April 2011) single track addition to Moab. When people split hairs about Moab, talk comes up that there isn't a lot of single track. With the addition of the 
Sovereign Trail System
several years ago and now this, you can stop splitting hairs. Moreover, you're now able to link this singletrack up with rides (
strongly suggested
) such as
Gemini Bridges, Little Canyon Rim
and Gold Bar Rim. An awesome epic would be doing the entire Mag 7 (top to bottom) link up with the Gold Bar Rim trail and descend the hairy but awesome
Portal Trail
 (shuttle required). Don't forget to visit Gemini Bridges when here.
Magnificent 7 Video

Distance: 10.43 mi (top to bottom/one way)
Elevation Loss/Gain: 1291 ft/ 500 ft
Time: 1.5-2.5 hrs
Season: Spring/Fall to avoid extreme heat
Recommended Map: Moab West by Latitude 40 
(includes Amasa Back, Poison Spider Mesa, Gemini Bridges, Hurrah Pass, Jackson's, Sovereign and many more) Note: Magnificent 7 is not labeled on map. 


Bull run aka Green Dot is the top portion. It rides on slick rock along the rim of Bull Canyon (first mile is on a beat up double track). This section rides for a total of 4.56 miles. You'll then be spit out onto the dirt road where you'll hang a right. All sections are well signed. A little bit down the road on your left hand side will be the entrance to the Arth's Corner section. Arth's corner runs for 1.62 miles on chalky, orange, desert dust and slick rock. It has a considerably different feel and look then Bull Run. Again, you'll end up on a dirt road where you'll turn right and follow the road to where it "T's". The entrance to the next section, Little Canyon, is right in front of you. This section is 2.2 miles more of the similar goodness you received from Arth's Corner. Lastly, you have the Gold Bar Singletrack section which consists of a 1 mile/453 ft climb on slick rock to a nice overlook. From here you can  proceed further up in order to link up with the Gold Bar Rim trail,
Poison Spider Mesa
, and the infamous
Portal Trail
 (shuttle needed). Or you can descend back to the bottom of the climb and turn right on a very sandy road that will take you to a "T" where left and up (described on map)will take you back up towards where you came from (follow signs to Gemini Bridges) and right will take you out past Gooney Bird to the Gemini Bridges parking lot along hwy 191.
(Bull Canyon)
(scroll over for full size map image)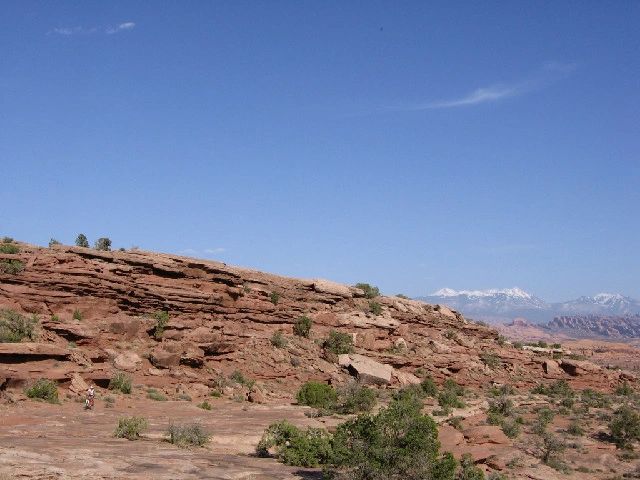 (Arth's Corner)
Getting There: To get to the top of the trail (Bull Run), from Moab take hwy 191 north for 12 miles and turn left on hwy 313 (Dead Horse Point). Take this for 13 miles and turn left on the "Gemini Bridges" dirt road. Park immediately on left. Ride about 1.2 miles down the road and look for a beat up double track on the right (should be signed) that doesn't look traveled much at all. Look for mtn bike tracks!  This is the start of Bull Run. (If you don't see mtb tracks, you took the wrong double track) Follow this beat up double track down and to the left for about a mile. This funnels you onto slick rock where you follow green painted dots and cairns. The rest of the trail system is well signed. If you have a 4wd, you could come in via the Gemini Bridges parking lot off of hwy 191 (10 miles north of Moab on left). Additionally, if you decide to shutte, leave one car at the Gemini Bridges parking lot on hwy 191. Bring the other shuttle car to the top of Bull Run.  
Camping: Everywhere. Please note that many primitive/free camp sites requires bringing your own porta potty system.
(Arth's Corner)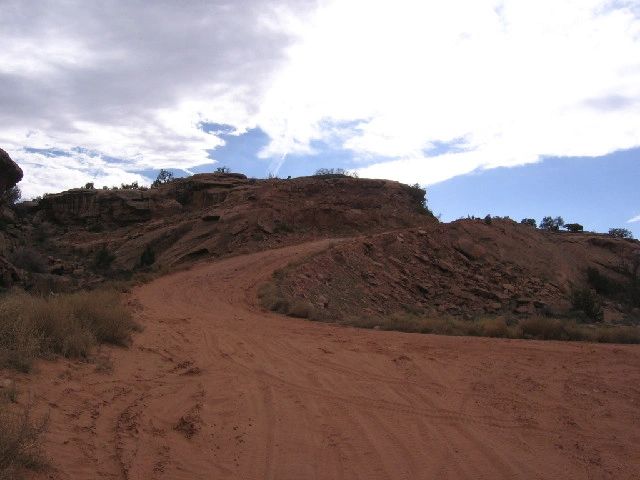 (If you don't have a shuttle, you can complete a loop by riding this road back to your car. In the photo below this hill is the intersection just west on the map of where the Little Cyn(purple) and Gold Bar(gold)singletrack meet.