The North Umpqua Trail (IMBA EPIC)  is 79 miles long and is broken up into sections. One of the most popular sections to mtn bike is the Dread N Terror section. Its name makes you think that it's some sketchy trail that puts you at risk of death. Nothing could be further from the truth. It's singletrack that rides along the river with a couple technical turns but for the most part anyone can ride this trail. The name comes from the potential difficulty involved with figthing a forest fire in the area due in part to its impenetrable thickets of white thorn brush. It's a real beautiful ride and not too long (3 or so hours). If one has to choose, I'd recommend this over the McKenzie River Trail. The McKenzie river trail, beautiful itself, is too much of the same thing (26 miles of gently undulating trail). The Dread N Terror section gives you everything you need in a river trail: beautiful flora, waterfalls, and tight single track. It has quite a few short descents and short climbs that make it interesting and demanding of your attention. You'll pass by waterfalls and ride thru an enchanted, lodgepole pine, forest. The Dread N Terror section starts at Lemolo Lake and ends at Toketee Lake. A Bike Box (trail maps,tubes,lube,accessories) is located at the Lemolo Lake Resort. They have food, beer on tap, and lodging. Make sure to visit the Toketee Falls at the end of the trail.
List of Other Awesome Rides


Distance:
16.03 mi
Elevation Gain/Loss:
2995/4607 ft
Time:
3-4 hrs
Season:
Spring-Fall
Maps:
North Umpqua by TreadMaps. Includes entire North Umpqua River (70+miles), Diamond Lake, and local areas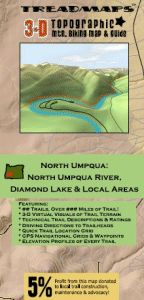 North Umpqua River Resourced Guide

Get your Umpqua On at the
Lemolo Lake General Store
. They host the 
Bike Box
with trail maps and bike supplies. They have cabins for rent so you can stay over night and enjoy their beers on tap while you plan your epic ride along the Umpqua. They also have boats and canoes for rent..Uh Huh..
Getting There:
Directions from Roseburge, Bend, Medford, Klamath Falls

Once there, proceed across the dam to the White Mule Trailhead and begin the journey.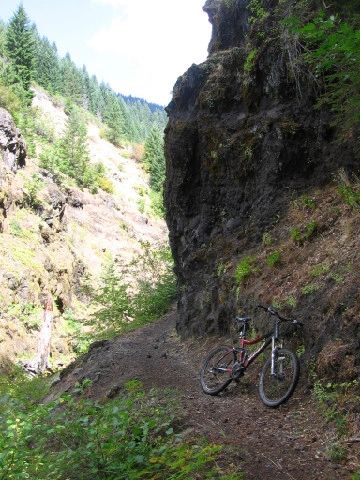 Picture of my old sweet bike along the Dread N Terror Secton. Again, it's nothing too technical but there are some tight turns and steep slopes but at the end of the day it's "No Biggy".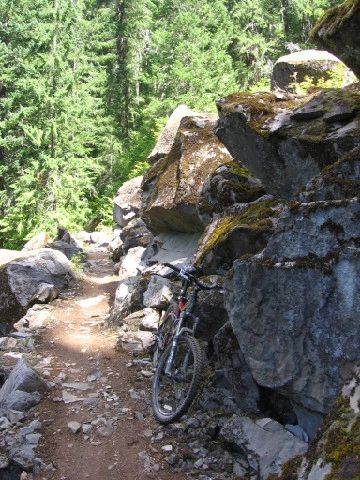 Nice trail work through a bouldery section of hillside
Mr. Bike Box hippying out at Toketee Falls. I brought my towel because I thought I'd take a dip. No can do as it's a ravaging river below.
Other Things to See & Do when in the area

Crater Lake: A beautiful national park that never gets crowded. We were there on Labor Day, rode up and got a campsite without a reservation. Suggested Hike:
Watchman Peak (Fire lookout)

Mt. Thielsen. This shot was taken from Diamond Lake near Lemolo Lake. It looks like it could be good
hike