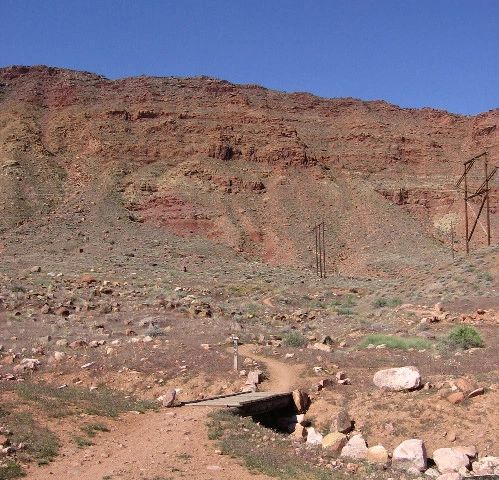 (north end of trail)
This is 4 or so miles of brand new single track that rides just above the town of Moab. It's a fairy technical ride because of the many tight turns that keep you on your toes. A lot of work has been put into this trail. I classify this as a "filler ride". In other words, don't plan your day around it. Do it at the end of the day after doing some other big ride. Bike shops suggest to ride it as an out 'n back on the trail. Don't make this mistake. Riding from town out on the trail is a slow, arduous, task (1.5 hrs of rolly polly uphill) which allows the noise and trailer parks of Moab to take away from the reason (peace and quiet) you spent a half day getting to Moab. Ride it as a loop using the road and you'll save time and really enjoy yourself.  Riding the trail from the south (Hidden Valley TH) to north  direction is really fast and fun and requires all of your attention. Thus, the noise and visual pollution of the city are not noticed.
Pipe Dream Video


Ride Type:
Loop containing 4.7 miles of single track made technical with tight turns and steep slopes along with an easy 4 mile road ride.
Distance:
8.7 miles
Elevation Gain:
1000 ft
Time:
1.75 - 3 hrs
Season:
ideally spring and fall to avoid heat
Recommended Map: Moab East by Latitude 40 (includes Slick Rock,Porcupine Rim,Whole Enchilada, La Sal mts, Castle Valley, Fisher Valley and much more) Note:Together, Moab West & Moab East maps cover everything in Moab. Another Note: Pipe Dream is a brand new trail so it's not on the map but the trailhead can be found at the "Hidden Valley TH" on this map.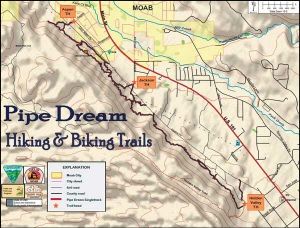 (scroll over map for full size image)

(Time intensive stone work is found throughout the trail. Photo courtesy of Poison Spider Cyclery)
Getting There:
From City Market in Moab, drive 3.5 miles south out of town on hwy 191. Hang a right on Angel Rock Rd. (signs for Hidden Valley, Pipe Dream Trails) and travel 0.5 mi to trailhead located in the soutwest corner. Once on the trail, always stay high left (signage is good) at junctions. After 4 or so miles just past the water tanke, the trail spits you out onto a street in a neighborhood. Turn right on the street (Doc Allen Dr.) and make an immediate left on Aspen. Turn right on Kane Creek and then right at Hwy 191 (McDonald's on corner) back to your car.
(click here for More Killer Rides)