(Zippity Do Da)
This is a very unique trail system. I'd describe it as riding smooth, roller coaster like, single track on the planet Mars. For the most part, the single track is smooth and buff as you are riding on big mounds of soft dirt. The technical aspect comes in the several, extremely steep, but totally smooth, sections that for novices will throw you forward over the bars. The Road 18 area is a definitely must do. However, if you're on a bike vacation and have limited time,  I wouldn't plan a whole day around the place. I think if you did one of the popular rides like this or Joe's Ridge-Kessel, you'd get a plentiful taste of what the area offers and have time to knock out rides elsewhere. I like camping here and doing an 1.5 hr sunset ride to finish off the day or early morning ride. Then I am off to Kokopelli Loops, Moab or the Lunch Loops to bust out an all day ride. Fruita is broken up into several sections, Road 18 aka BookCliffls, Kokopelli Loops, Rabbit Valley. The Lunch Loops in Grand Junction just down the road are a must do if in the area. Also, Moab is about 2.25 hrs away from the Road 18 trailhead.
Zippity Do Da Video

Other Killer Rides

Ride Type:
Buff Single Track Loop. Some parts very technical due to extremely steep downhills and ridgeline riding
Distance:
6.71 mi
Elevation Gain:
911 ft
Time:
1.25-2 hrs
Season:
Spring & Fall too avoid extreme heat. Otherwise, get an early start if riding in summer
Recommended Map:
 Fruita, Grand Jct by Latitude 40.
(Includes Fruita, Kokopelli Loops, Lunch Loops, Ribbon Trail, Rabbit Valley and more)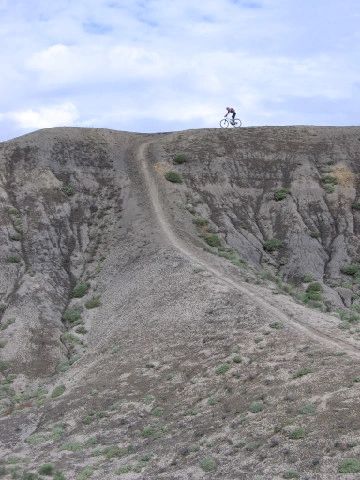 (Rob before the falls)
Road 18 Detailed Trail Map (click here)

Getting There:
From Grand Junction drive west on I-70 to Fruita Exit (#19). From the off ramp hang a right. At the bottom of the hill hang another right (City Market on right) travel 0.1 mile and continue straight through the roundabout, travel 2 blocks thru downtown and turn left on Maple Street.  Travel 4 miles north on Maple St. (17 1/2 Rd).  Turn right at N. 3/10 Rd, 0.5 mile to 18 Rd.  Go north on 18 Rd for 7.5 miles to a parking area on the left.  A carsonite post on the right hand side of the road, directly across from the parking area marks where the single track begins. For "Prime Cut to Zippity Do Da", dive down and take a left on Prime Cut. Follow Prime Cut 1.9 mi to the junction of Chutes and Ladders (right & up) and Frontside (left). Take a left on Frontside for a bit and continue straight thru the roundabout/road and take your first right onto single track (100 yds down the road past the round about). Stay on Frontside for another mile or so (by passing Joe's Ridge) until you come to Zippity Do Da. It's all down hill/smiles from here. After about 2 miles on Zippity Do Da you'll see the trailhead parking lot over to the left in the distance. Stay left at junctions in order to link back up with the trailhead.  
Upper 18 Road Parking/Camping Area:
  Continue up 18 Rd another 1.7 miles form trailhead to where 18 Rd ends, and park up top, above the old gate or follow signs to campsites.
(Top of Zippity Do Da)