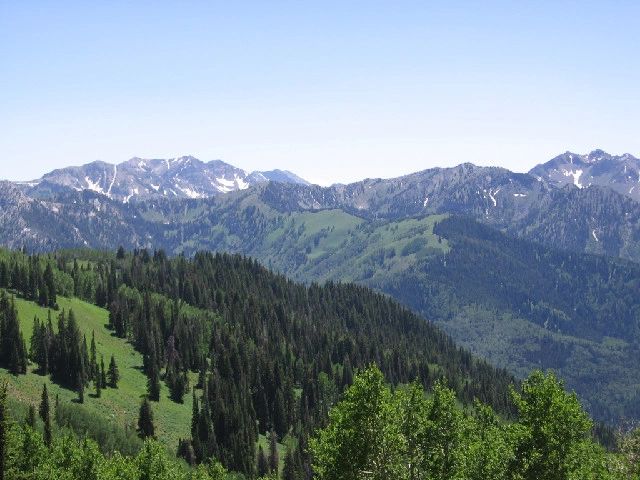 This is the cherry on the top of the sundae ride. The Wasatch Crest is awe inspiring views all the time. The trail rides along the spine of the Wasatch mountains enabling views of both the Salt Lake Valley (including Great Salt Lake) the Park City areas (including Uintah mountains), and one of a kind views of the Wasatch Peaks. The true epic is a loop where you ride the crest out and then come back via the mid mountain trail which traverses the 8,000 ft topo line from the Canyon's Ski Resort to Park City Ski Resort,up Thayne's canyon to the bottom of Jupiter bowl, then up over the ridge back to your start.
Getting There: From Salt Lake, travel up Big Cottonwood Canyon towards Brighton Ski Resort. Turn left on Guardsman Pass (about 3/4 mile before you get to Brighton) Travel about 2 miles ( 2nd right turning switchback in the road) on your left hand side you'll see a fire road. Park Here. Ride 0.7 miles and you'll come to a saddle. Going right drops you into Park City. Stay left and climb the steep dirt road (Puke Hill) for about 0.5 mile. Once at the top, you are now on the crest. From here on out the trail rolls up and down on the ridge. Continue in the direction of the radar shack. The double track eventually turns into singletrack. At 7.75 miles you arrive at a fork in the trail. Continue right to the Canyons Ski Resort (mid mountain trail). Left takes you down to Mill Creek/Dog Lake or turn around to complete an out 'n back.  
Park City Mid Mtn-Crest Trail Loop Ride Description and Map coming soon!
Square Top located in the Canyon's ski resort about mile 7 on the ride
Park City Mid Mtn-Crest Trail Loop Ride Description and Map coming soon!