What do you call 15 miles of sweeping single track that travels entirely along the rim of your very own personal Grand Canyon? Answer: One of the best rides. This is an even better kept secret than Utah's Thunder Mountain. You'll most likely see no one else on the trail and be supplied constant views of your own personal Grand Canyon. Trust me on this. I've ridden the only legal single track along the real Grand Canyon  (Rainbow Trail) and this is way better. To boot, the place is littered with vacant campsites. You'll truly feel like a modern day explorer as you ride the flowy singletrack in and out of the canyon's fingers. The official name of this ride is "Good Water Rim"
(List of other rides)


Distance: 21 mi (15 mi singletrack, 6 mi on fast dirt road)
Elevation Gain:
Time: 2.5-4hrs
Season: Ideally Spring and Fall but can be done early in Summer
(San Rafael River below)
Gettting There: From Salt Lake, head as if you're going to Moab. Take Hwy 6 through Spanish Fork Canyon. Once you come to Price, take Hwy 10 South towards Castle Dale. Zero your odometer out. At around mile 28 look for a dirt road on your left hand side with a "San Rafael Access" sign. Take this dirt road for about 12 miles until you come to 4 way intersection with a fortified bathroom. Hang a right and travel 6.8 miles where the road will "T". Take a left ("Little Grand Canyon Overlook") and travel 0.5 miles to the roundabout and park here. From the South (I-70), take exit #131 (Temple Mt. Rd/Sinbad Rd.) (DO NOT take exit #129 as maps and other websites say). Take the dirt road on the north side of the exit. The road first travels east paralelling the fwy and then jogs north for 30 miles where the road "T"s. Take a left (direction Castle Dale) and travel 2.3 mi to a 4 way intersection with the fortified bathroom on the left. Take a left (the rest of way is described above). From your parking place at the roundabout, start riding north on the double track. At about a mile start looking for cairns and a single track on the right. The single track for the first mile or so is faint and frequently comes back into the double track. Just try and stay as close to the rim as possible and you'll meet up with the well defined, sweet, singletrack that takes you along the rim for another 13 miles. At mile 8 the single track hits a dirt road. To cut the ride short, hang a left on the road and follow it until it "T"s (Area Map Sign Board on left). Turn left here  (same road you came in on in your car) and ride 2.85 more miles back to your car. To complete the entire ride (Suggested!), at mile 8 take a right on the dirt road. You'll see a singletrack on your left about 50 yards down the road. Take this for another 7 wonderful miles. At mile 15 (done with single track) follow the double track out always keeping to your left. At mile 15.9 hang a left on the dirt road. Follow this road until it "T"s at mile 18.15. Take a left and travel 2.85 miles back to your car. Wasn't that Sweet!
Camping: You'll see tons of campsites on your way out to the ride. There are plenty of choice ones located right on the rim.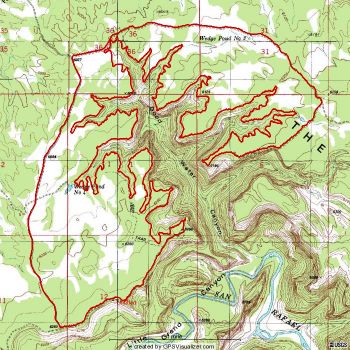 (Scroll over map for full size image.
Map not finished)

Other stuff to do: If you came in from the north, I'd suggest leaving via south to I-70. This is an interesting drive where you'll pass by the
Buckhorn Wash Pictographs
 and cross the San Rafael River. When we were up on top we saw kayakers on the river. Looked like fun. Moab is about 3hrs from the ride start roundabout.
(Buckhorn Wash Pictographs)